TARGET‧HKTBC‧TWGHs Charity Bowling Tournament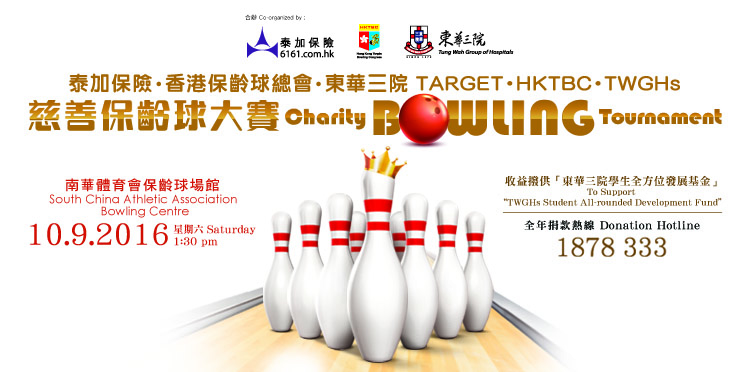 Name of event
:
TARGET‧HKTBC‧TWGHs Charity Bowling Tournament
Co-organisers
:
Target Insurance (Holdings) Limited (TARGET)
Hong Kong Tenpin Bowling Congress (HKTBC)
Purpose
:
To support "TWGHs Student All-rounded Development Fund"
Chairman and OC chairman's appeal
:
Please download the Appeal Message
Date
:
Saturday, 10 September 2016
Time
:
1:30pm – 5:00pm
Venue
:
South China Athletic Association Bowling Centre, 88 Caroline Hill Road, Causeway Bay, Hong Kong
Donation Methods
:
Please download the Appeal Leaflet,  Information on Tournament and Donation Form

Patronage
Amount
No. of team
Advertisement in Souvenir Programme
Other Acknowledgements
Cup Patron
(To name a Cup)
$128,000
4 teams
(16 players)
2 pages
- Receive a souvenir at the ceremony
– Acknowledgement through
* Event Backdrop
* Souvenir Programme
* Event Press Release
* Annual Report
Diamond Patron
$100,000
4 teams
(16 players)
1 page
Gold Patron
$68,000
3 teams
(12 players)
1 page
Silver Patron
$38,000
2 teams
(8 players)
1 page

Team Enrolment
Form a team of 4 players by donating $12,000 or above
Teams/individuals are encouraged to solicit donations support from friends in order to compete for the "Top Fund-raising Award".

Subscribing for Advertisement in the Souvenir Programme ($10,000 for a full-page coloured advertisement)

Making General Donation

By Cheque


Please make your crossed cheque payable to "Tung Wah Group of Hospitals" and state "CBT" at the back of the cheque. Kindly write "Tung Wah Group of Hospitals Freepost no. 10 GPO" on the envelope and no postage is required.

Via Bank


Donations can be deposited into the bank accounts of Tung Wah Group of Hospitals in HSBC, Hang Seng Bank, Bank of China (Hong Kong), and Bank of East Asia.

Online Donation


Credit Card, PayPal or Octopus

 (All direct expenses of the event have been sponsored by TWGHs Board of Directors and no administrative costs will be deducted from the donations of the general public to ensure all public donations will go directly to our services.)
Enquiry Hotline
:
For details, please call 1878 333 (Fund-raising Division).