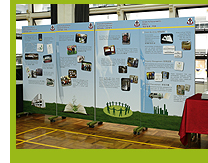 To cope with the severe environmental problems and rapid exhaustion of natural resources confronting countries that surround us, the Hong Kong government has in recent years launched a wide range of environmental measures in the territory. In 2006, Tung Wah took the initiative of establishing a Green Working Group that comprised staff representatives from all Divisions and Branches as well as appointing Green Managers in each Division/Branch to assist in implementing the Group's green house rules.
The Proposal of "Tung Wah Group of Hospitals To Move Towards a Green Organization", after being endorsed by the Group's Executive Committee, was submitted to the Environment and Conservation Fund (ECF) Committee in September 2008 for an application of funding for the implementation of the proposed green initiatives. In January 2009, the ECF Committee gave an in-principle approval to our application for a $19.84 million grant for a three-year programme.

With its massive territory-wide service network of over 260 service centres, Tung Wah as a Green Organization will endeavour to help promote environmental consciousness and conservation in different strata of the community. With its wide coverage, an effective platform can be created for Tung Wah's stakeholders to learn and appreciate green living through the proposed pilot projects.
Tung Wah has established a Environmental Steering Committee and a Environmental Working Group to give guidance to the Group's environmental work, as well as to monitor and examine the results. According to the proposal of "Tung Wah Group of Hospitals To Move Towards a Green Organization" endorsed by the Group's Executive Committee with Environment and Conservation Fund Committee's suggestions, Tung Wah is committed to:

Pursuing a total environmental concept in operating its medical, education and community services.
Becoming a pioneer among Non-Governmental Organizations in environmental consciousness and conservation.
Incorporating environmental protection into its corporate culture and communicate the Group's environmental policy to staff, students, services recipients and business partners, and promoting environmentally friendly behavior in Hong Kong, which in turn will lead to a high-quality and sustainable living environment for this community and the future generations.