As a green organization, in order to achieve and demonstrate a sound environmental performance, Tung Wah had obtained ISO14001:2004 certification at the Administration Headquarters TWGHs Wong Fung Ling Memorial Building in December 2010. The presentation ceremony of ISO 14001:2004 certificate was held on 20 January 2011 at the Administration Headquarters. The ceremony was officiated by Ir Prof. Peter K. W. Mok, Chairman of Hong Kong Quality Assurance Agency.
| | | | |
| --- | --- | --- | --- |
| Presentation of ISO14001:2004 Certificate | | Planting Ceremony at Vertical Green Wall | |


The Estate Management Section of the Property Division of the Administration Headquarters of the Tung Wah Group of Hospitals (TWGHs) is committed to:
Complying with applicable environmental legislation, regulations and other requirements to which we subscribe.
Preventing pollution, reducing waste and minimising the consumption of resources through the identification and control of our significant environmental aspects.
Communicating our environmental requirements to relevant contractors and service providers.
Educating and encouraging all staff to carry out tasks in an environmentally responsible manner.
Continually improving the Environmental Management System and our environmental performance through the establishment of environmental objectives and targets.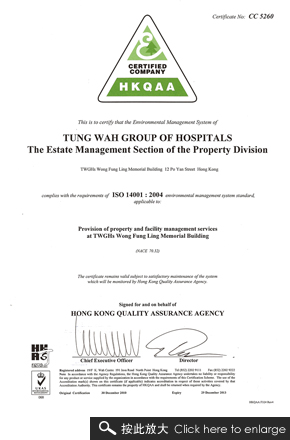 ISO14001:2004 Certificate