Environmental-friendly Construction
In support of the " Green Building " ideology promulgated by the government, the Group's residential redevelopment properties at Nos. 7-10 Kwai Fong Street in Happy Valley will widely adopt prefabricated components, including external facades, balconies and bay windows. Such features would shorten the construction period as well as minimize the nuisance caused during construction.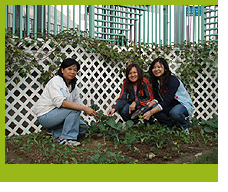 Environmental considerations are integrated into the planning, design, construction, operation and maintenance of the Group's building projects and facilities. Latest building energy efficiency standards and codes will be complied, and better environmental performance will be encouraged in development projects such as Kwong Wah Hospital Redevelopment and TWGHs Youth Camp projects.
Construction of the green roof for TWGHs Chang Ming Thien College has been completed, while the green roof projects for TWGHs Wu York Yu Memorial College and TWGHs Chen Zao Men College are in progress.
Green Office
In December 2006, Tung Wah formulated the Green Office house rules with a checklist of inspection for promulgation to all Divisions/Branches at the Headquarters for compliance. Staff members were encouraged to better manage energy resources consumption in their daily office routines. Energy control measures include retrenching the use of electricity and water, using ultra low sulphur diesel and environmental-friendly battery for company vehicles, and displaying "Room temperature at 25.5oC" labels at conspicuous spots in the office.
With respect to resources management, staff members were encouraged to reduce the use of paper by using intranet, internet and emails, or using the Hong Kong Post Circular Service to mail out promotional materials, retrenching in the use of stationery, food utensils and packaging materials, as well as arranging for recycling of used items. To identify the recycling needs of the Group's service centres, a survey was conducted by the Finance & Supplies Division in February 2007. Recycling action had then been strengthened by widening the spectrum of used materials for collection by recyclists. Apart from confidential documents, general documents, metals, plastics, ink/toner cartridges, used battery and computers were also added to the list.
Green Property Management
The Group strives to render good maintenance services to its rental properties so as to enhance the building life span for avoiding early demolition that leads to resources wastage. Besides, contractors have been encouraged to use non-toxic and environmental-friendly materials in carrying out maintenance and repair works. All rental residential and commercial buildings have been awarded the "Certificate of Quality Water Recognition Scheme for Buildings" launched by the Water Supplies Department as a token of recognition that high quality fresh water is supplied to Tung Wah's tenants.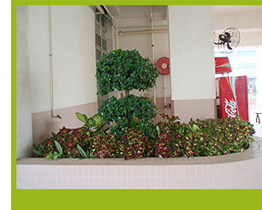 Some of the Group's properties have taken part in the Programme on Source Separation of Domestic Waste and Source Separation of Commercial & Industrial Waste organized by the Environmental Protection Department (EPD) by placing waste collection bins on each floors to facilitate collection of waste paper, metals and plastics from tenants. Monthly reports on the weight of waste collected for recycling are submitted to the EPD for compilation of statistics in support of environmental protection. In addition, boxes have been placed in the Group's buildings to collect rechargeable batteries for environmental disposal. Recyclable waste such as computer and electrical appliances are also collected from tenants for recycling periodically.
Long-term maintenance programmes have been formulated to upkeep the condition of rental properties for prevention of pre-mature demolition. Besides, contractors had been encouraged to use non-toxic and environmental-friendly materials when carrying out renovation and repair works.