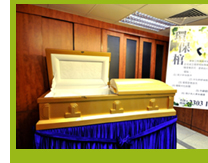 Eco-coffins
The government's strong advocate in green living has changed the living concept of the public and their funeral planning likewise. To answer this need, both TWGHs International Funeral Parlour and TWGHs Diamond Hill Funeral Parlour have introduced 4 different types of eco-coffins. Well-received by the public, the eco-coffins are more affordable and also take shorter time to cremate, hence producing less smoke than the traditional ones.
Expansion of eco-commemoration niches project
In order to satisfy the public demand for columbarium, Tung Wah Coffin Home, Cemeteries and Columbarium has launched the rental service of eco-niches since 2009. The "Ning" and "Hong" rooms in the coffin home have been converted with the use of recyclable materials instead of natural stones to house 843 eco-niches. Such rental service has gradually become known to and accepted by the public, and its utilization rate has reached 80%.