Touching Stories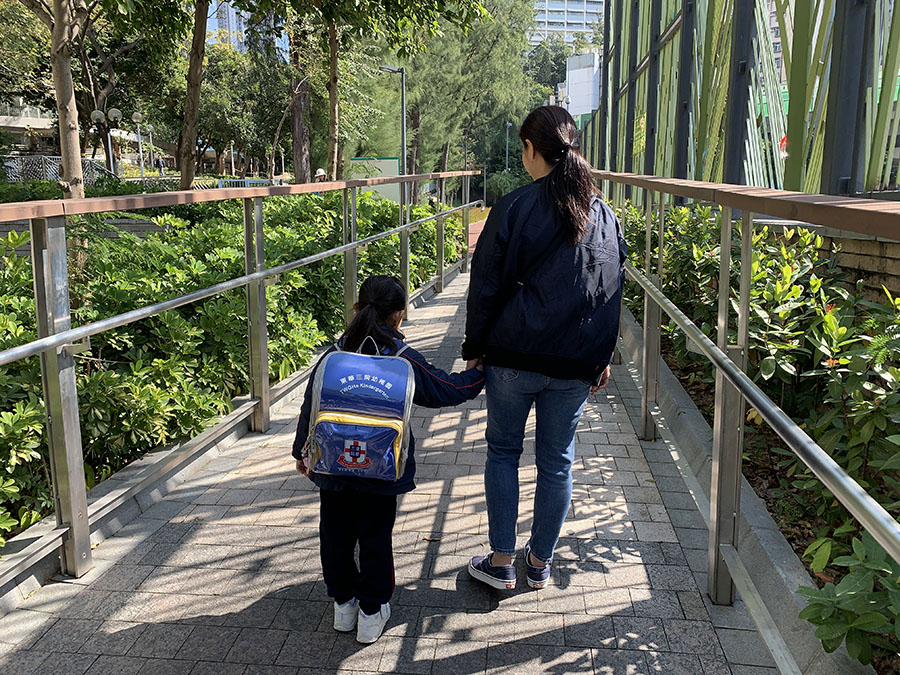 On Mid-Autumn Festival Eve in 2018, a traffic accident took away LING's husband, tragically leaving behind LING and two young daughters. "Mum, you can't cry! You can't cry!" said the elder daughter who was wiping LING's eyes as she wept heart-brokenly.
The elder daughter, a five-year-old girl, was told to be strong and reliable by all relatives and friends, and to be responsible for taking care of her younger sister. This little girl took up the burden in this time of grief, and so had no way to release her own sadness.
Every child should enjoy their childhood happily without any worries. It is not easy for them to express and handle psychological trauma when facing the death of close family members. Hence, a proper way to support their emotional release and well-being its crucial.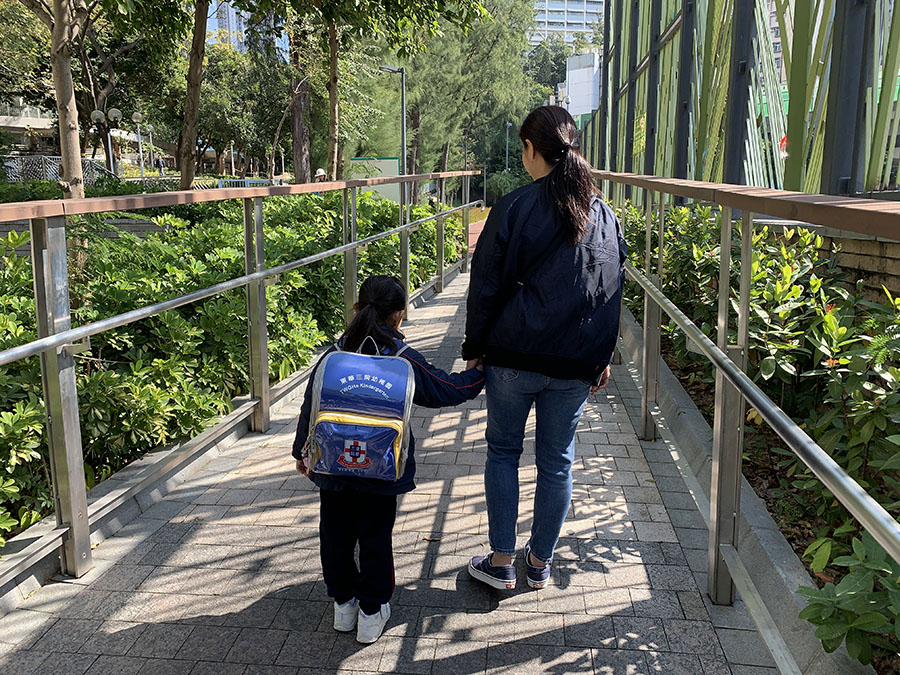 On the eve of Mid-Autumn Festival in 2018, roads and streets were jammed due to Typhoon Mangkhut. LING's husband drove alone on his motorcycle to Sheung Shui for festival reunion with relatives. LING had stayed at home with her two young daughters. At around 11 pm, the phone rang suddenly.
"I was sleeping with my girls when my mother-in-law woke me up and said the Police had just called to inform us that my husband had run into an accident. They wanted me to bring his ID documents to the hospital. The Police called many times to urge me, but I was very flustered as I could not reach my husband at the same time. I panicked and hoped this was not true. It was not easy for my father-in-law and me to get a taxi as the typhoon had just dispersed. My husband had already passed away when we arrived at the hospital. The Police let me see him one last time. I recognized my husband at once from his hand when the police lifted the cover sheet."
A sudden loss of a loved one and the breadwinner, LING felt completely heart-broken but still could not tell her young daughters regarding their father's death. She took the two girls to kindergarten as usual the next day. "My girls were attending the morning school at Tung Wah Group Of Hospitals Wong See Sum Kindergarten. I told the teachers that my husband had just passed away and I had to handle the funeral arrangements in a very short period so, I would not be able to pick the girls up on time. The teachers assured me not to worry and that they would help take care of my daughters if I could not make it."
While LING cried her heart out, the two little girls kept asking when would Dad come back home. Facing the sudden financial pressure and questions from the girls, LING felt completely helpless about the future. "The School kept an eye on my situation. They knew my financial difficulties and suggested that I apply for the TWGHs Emergency Relief Fund to settle my husband's funeral arrangements. They also paid extra attention to my two daughters' emotional condition."
LING's younger daughter, who was just three years old, had no idea about death, but kept on crying and hoping to see Dad every day. She thought Dad was like a cartoon character that will never die; or Dad would be home when she woke up. The five year old elder daughter was unexpectedly calm. She covered LING's eyes sadly when she saw her mother was crying, and said "Mum, you can't cry! You can't cry!" Her father had always told her, "You are pretty when you are smiling but not when you are crying." "I knew she missed her Dad very much and that she just suppressed her grief; but she would weep at night under her blanket." She had remembered her Dad's words which was why she suppressed herself.
A few days later, the girls were referred for grief counselling to the TWGHs Ho Yuk Ching Educational Psychology Services Centre by the school and joined the 'Arts-based Program in Enhancing Playfulness and Well-Being of Parents and Young Children'. The girls released the emotions that were suppressed deeply in their hearts through expressive art therapy and play therapy.
"The therapy room was full of toys, drawing tools, stuffed toys and story books." Expressive Arts therapists, Esther recalled, "We arranged two therapists to hold group counselling with the girls. In one of the counselling sessions, a therapist had to leave to meet their mother before the session ended, and I stayed for the counselling. After the therapist left the room, the elder daughter poked hard at a Teddy Bear on the table and said 'Teddy Bear is very angry right now. Why didn't you say goodbye?' We found out that she was very angry at the therapist for leaving her without saying goodbye. We realized that she just could not accept the sudden departure of others especially her father."
Esther asked her elder daughter whether she wished to say anything to her father, by pretending to make a phone call to him, so that she could finish the words with her father; and through reading a story book together, the girl understood that it was not Dad's choice to leave without a proper farewell.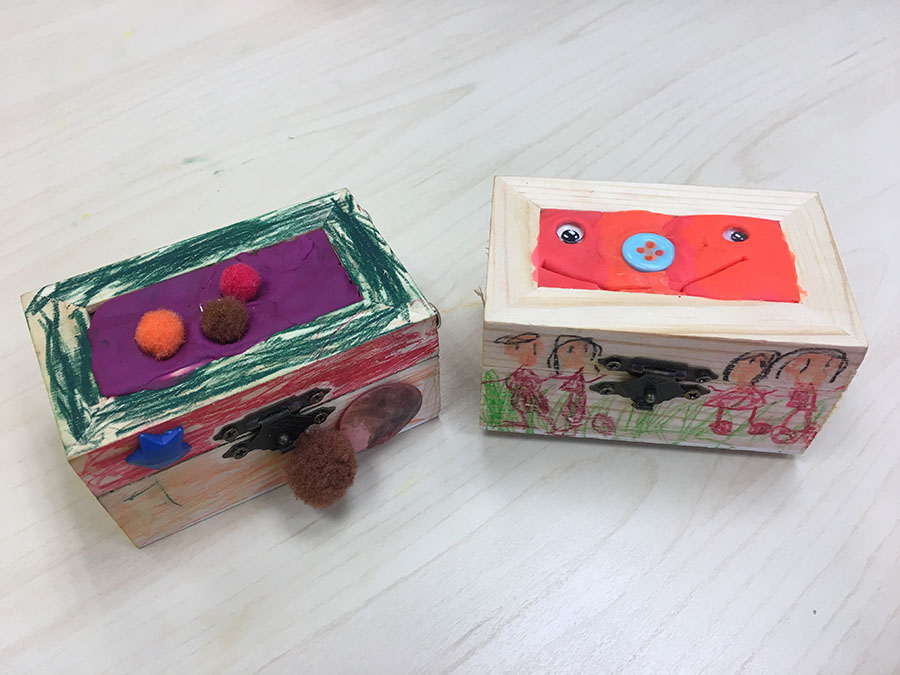 A father's death had caused a deep wound in all the family members but they avoided touching upon it at the beginning. In the following counselling session, Esther encouraged the elder daughter to recall the wonderful memories with Dad, in order to re-connect the linkage between father and daughter, and to share their reminiscences and sorrows.
Esther also created memory treasure boxes with the two girls, and asked them to draw the cherished and important moments and then keep them in the boxes, just like sharing those moments with Dad. LING said the two girls still kept the treasure boxes, to perpetuate the connection with Dad.
"I was in despair and very depressed after my husband's incident. It was fortunate to have the Centre's help in settling my girls' psychological needs." LING and her girls prepared a white funeral paper wreath for their father's funeral. After three months' counselling, the two girls had shown great improvement in their emotional issues and have come to accept the loss of their father.
YOUR DONATIONS WOULD MAKE A DIFFERENCE TO THE SERVICES OF TWGHS. WE SINCERELY INVITE YOU TO JOIN "FRIENDS OF TUNG WAH" MONTHLY DONATION SCHEME. THE MONTHLY CONTRIBUTION WOULD BENEFIT VULNERABLE COMMUNITIES IN NEED.