TWGHs Charity Raffle (10.3.2016)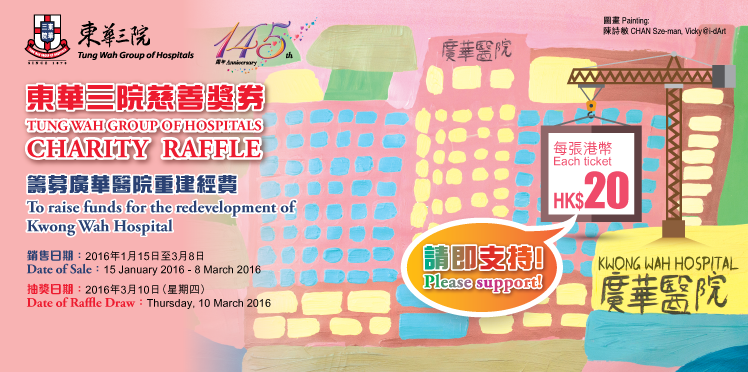 Event
:
TWGHs Charity Raffle


.

Purpose
:
To raise fund for the redevelopment of Kwong Wah Hospital


.

Chairman's Appeal
:
To download the appeal message


.

Date of Sale
:
15 January 2016 to 8 March 2016


.

Selling Price
:
Each ticket HK$20
(Purchase every 10 raffle tickets on or before 31 January 2016, will receive one pack of TWGHs Red Packets as a gift.  Limited Red Packets are available on first-come, first-served basis.)


.

Prize
:
Business Class Round-trip Tickets from Hong Kong to Sapporo, Japan for 2 Persons (Over $60,000) as the grand prize and with other prizes worth more than $240,000 in total.  Please refer to poster for details.


.

Point of Sale
:
(1) Fund-raising Division, 3/F., TWGHs Wong Fung Ling Memorial Building, 12 Po Yan Street, Sheung Wan, H.K.
(2) Service centres of TWGHs
(3) Appointed organizations


.

Channels of Making Donation
:
To download the donation form
(1) Subscribe for raffle tickets
(2) General Donation (through VISA/MASTERCARD or PayPal online donation)


.

Date of Raffle Draw
:
Thursday, 10 March 2016


.

Time of Raffle Draw
:
2:00 p.m.


.

Venue of Raffle Draw
:
The Assembly Hall, TWGHs Li Shiu Chung Memorial Bldg, Tung Wah Hospital, 12 Po Yan Street, Sheung Wan, H.K.


.

Guests of Raffle Draw
:
Tung Wah's lady Board Members, wives of Board Members and Miss Hong Kong


.

Enquiry
:
1878 333 (Our staff would provide more detailed information of the event)


.