On-line Donation
You can make on-line donations with your

 or through 
 , or through

, or through e-donation or bank bill payment services offered by participating banks' websites. Download Donation Form (General Donation / Monthly Donation)
By Cheque
You can send a crossed cheque made payable to "Tung Wah Group of Hospitals" by mail or in person to Fund-raising Division, Tung Wah Group of Hospitals, 12 Po Yan Street, Sheung Wan, Hong Kong. Download Donation Form
Through "ATM"
You can transfer your donations to Tung Wah's account through city-wide "ATM" electronic teller machines at Hongkong Bank, Hang Seng Bank or member banks of JETCO.
Through Bank Deposit
Donations can be deposited to the following bank accounts of the Tung Wah Group of Hospitals:
Bank of China (Hong Kong): 012-875-0-024935-9
Bank of Communications (Hong Kong Branch): 027-537-930-76188
Bank of East Asia: 015-514-40-33666-1
Citibank: 006-391-085-55346
Hang Seng Bank: 024-280-402660-001
Hongkong Bank: 004-502-301302-001
WeChat Donation
You may make a donation through WeChat: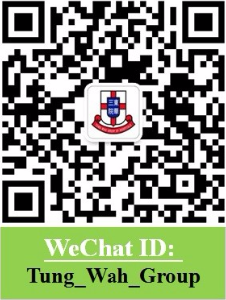 Search for and follow us by our WeChat ID or QR code on the right.
Enter TWGHs' WeChat account and choose your preferred project/program under
「單次捐款」or「活動贊助」tabs. Follow instructions to make a donation.
By PPS
If donation receipt is not required, you can donate through PPS bill payment service by tone phone or by internet. The merchant code of the Tung Wah Group of Hospitals is 9216.
Through Convenience Stores
You can make cash donation at any Circle-K without the need to provide barcode (HK$1-$5,000 per transaction).
Or you can present the barcode below to make cash donation at any 7-Eleven (HK$50-$5,000 per transaction).

In Person
You can bring along the donation cheque / credit card / cash to Fund-raising Division of the Tung Wah Group of Hospitals during office hours from 9:00am to 5:30pm, Monday to Friday.
Donation Box
You can put your donations into the donation boxes installed at the service centres of the Tung Wah Group of Hospitals.
Remarks
Donation of $100 or more to the Tung Wah Group of Hospitals is tax deductible.
If donation receipt is required, please send the original bank-in slip or ATM transfer advice slip or receipt issued by 7-Eleven or Circle-K Convenience Stores together with name and correspondence address of donor to the following address: Fund-raising Division, Tung Wah Group of Hospitals, 12 Po Yan Street, Sheung Wan, Hong Kong.
The provision of personal data is purely voluntary. We may be unable to complete the donation transaction through internet if data is insufficient.
The personal data provided will be used in processing the donation transaction, issuing of receipt and sending of fund-raising information. The personal data will be disclosed to staff member(s) of Tung Wah and the related bank(s) on a need-to-know basis.