Sister-school Ties Established between TWGHs Secondary Schools and 2 Beijing Schools
TWGHs Chen Zao Men College and TWGHs Kap Yan Directors' College established sister-school relationships with Beijing 101 Middle School and Beijing Zhongguancunzhongxue. The Signing
Ceremonies held on 27 September 2016 were witnessed by Mrs. Katherine MA, the Chairman cum Honorary Supervisor, Board Members, Ms. SUN Xuejing, Deputy Director of the Department of International Cooperation and Exchanges (Office of Hong Kong, Macao and Taiwan Affairs), the Ministry of Education, and Mr. ZHAO Hongsheng, Deputy Director-General of Beijing Municipal Committee of United Front Work Department.
During their stays in Beijing between 24 and 28 September 2016, teachers and students of the 2 TWGHs schools also visited important destinations, including the Capital Museum, Tsinghua University, the Summer Palace and the Chinese Space Museum, among others.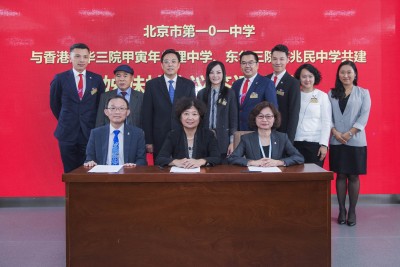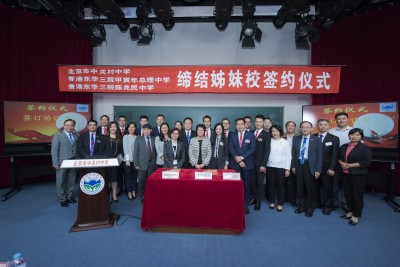 Board Members attended the Agreement Signing Ceremonies with Beijing 101 Middle School (upper) and Beijing Zhongguancunzhongxue (lower).