TWGHs Joint Primary School Soccer Ambassador Programme: Student Showcase
In line with TWGHs' mission to promote all-round education, the TWGHs Joint Primary School Soccer Ambassador Programme not only aims at unleashing the athletic potential of students but also at helping them to develop positive values. In addition to providing soccer training, the Programme has incorporated moral education, service-learning training and community service
activities, such as visits to elderly homes and residential child care centres. After 5 months of training, the some 100 participating students showed significant improvements in their self-confidence, self-discipline, independence, social and leadership skills.
To let others know more about the Programme and the positive results of the training, a student showcase was organized on 18 June 2016, drawing about 200 participants. During the Event, a parent shared how the Programme had transformed her child and various students in the Programme demonstrated their soccer skills and engaged in a match.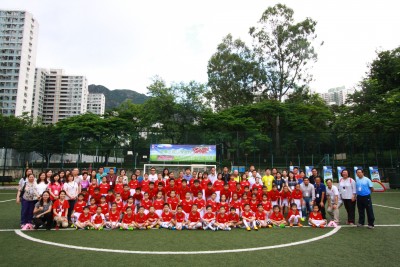 A group photo of Soccer Ambassadors with guests, school heads, teachers and parents.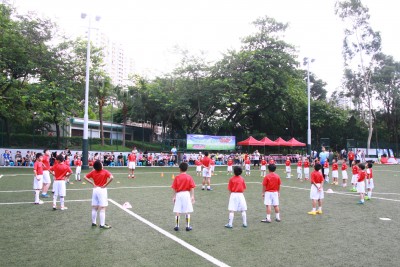 Soccer Ambassadors were doing warm-up exercises before the soccer demonstration and matches.