Tung Wah Charity Carnival Concessionary Tickets Ordering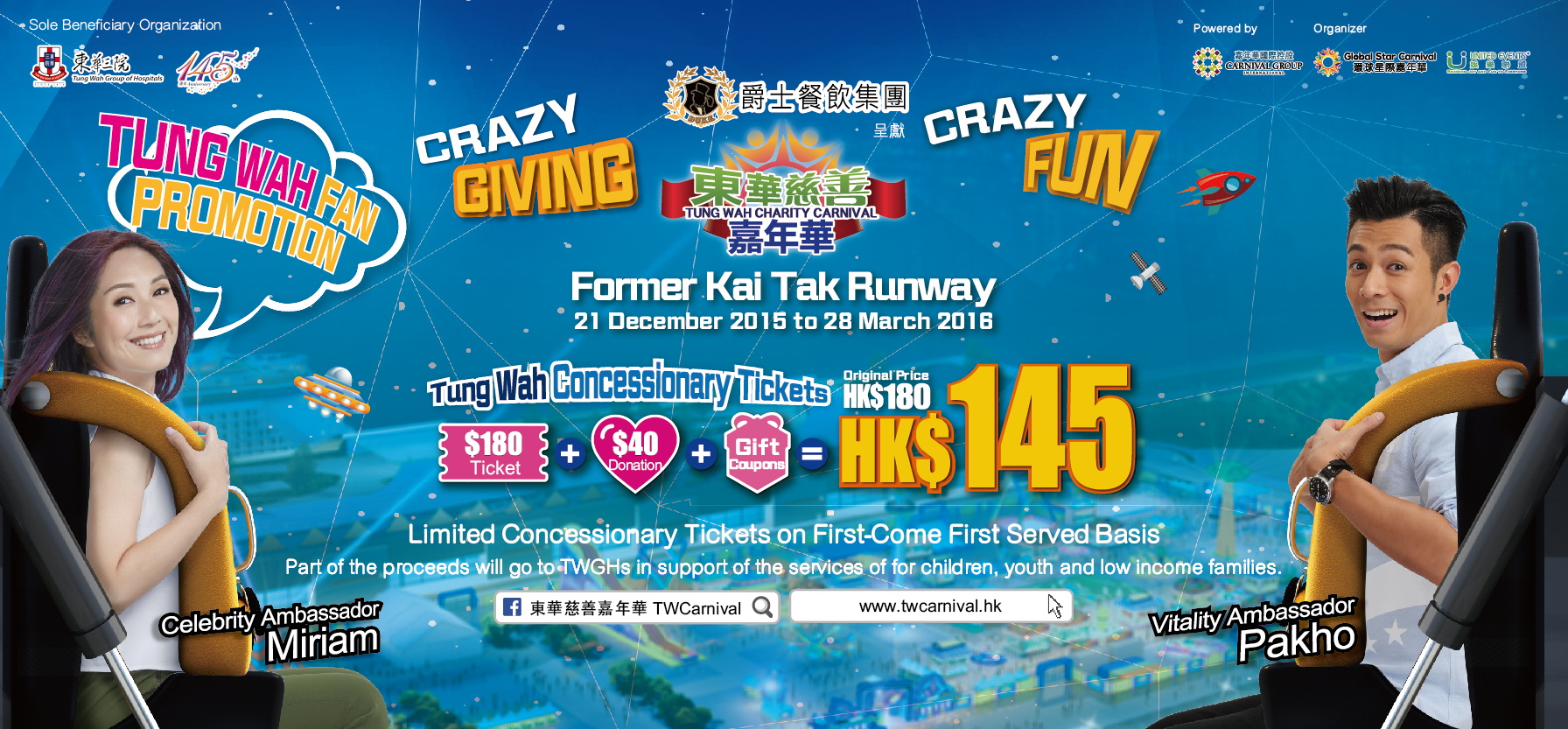 Tung Wah Charity Carnival, organized by United Events Limited and Carnival Group, Tung Wah Group of Hospitals (TWGHs) as Sole Beneficiary Organization, will be organized from the 23rd of December 2015 to the 28th of March 2016 at Former Kai Tak Runway.  The Carnival will feature more than 40 latest amusement rides & brand-new skill games, Family Entertainment Zone, entertainers, souvenir zones and food courts, which is suitable for family and all ages.
In celebration of TWGHs' 145th anniversary, Concessionary Tickets of "Tung Wah Charity Carnival" are available for sale at HK$145 (original price: HK$180) for Tung Wah fans.  Concessionary Tickets are limited on First-Come First-Served Basis.  The organisers will donate HK$40 to TWGHs for each and every Concessionary Ticket sold and participants will also receive shopping cash coupons for any purchase during the promotion period.  Part of the total income of the event will also go to TWGHs in support of its services for children, youth and low income families.  Awesome Game Super Fun! Please offer your support and you will make the difference.
Carnival Details and Online ordering: www.twcarnival.hk  Enquiry Hotline:2337 9366
Name of Event
:
Tung Wah Charity Carnival
Purpose
:
Part of the proceeds will go to TWGHs in support of the services of for children, youth and low income families
Date
:
23 December 2015 to 28 March 2016
Time
:

| | |
| --- | --- |
| (Monday to Friday) | 3:00pm – 11:00pm |
| (Saturday, Sunday & Public Holiday) | 11:00am – 11:00pm |

Venue
:
Former Kai Tak Runway
Support Means
:
- Order Tickets

(Tung Wah Fans Concessionary Ticket) HK$145


| | |
| --- | --- |
| - | includes $160 for Rides+Game Booths & $20 for Admission |
| - | The organizers will donate HK$40 to TWGHs for each Concessionary Ticket sold |
| - | Concessionary Tickets are available now for Tung Wah Fans |

- General Donation

Donation by cheque: Please make your crossed cheque payable to "Tung Wah Group of Hospitals" and send by post to Fund-raising Division, Tung Wah Group of Hospitals, 12 Po Yan Street, Sheung Wan, Hong Kong

Download through banks:


| | | |
| --- | --- | --- |
| - | HSBC Hong Kong | 004-502-301302-001 |
| - | Hang Seng Bank | 024-280-402660-001 |
| - | Bank of China (HK) | 012-875-0-024935-9 |
| - | Bank of East Asia | 015-514-40-33666-1 |
| - | Bank of Communications (Hong Kong Branch) | 027-537-930-76188 |
| - | Citibank | 006-391-085-55346 |

Remarks
:

No tax deductible receipt will be issued for ticket sales
Donation of HK$100 or more to Tung Wah Group of Hospitals is tax deductible (Applicable to Hong Kong residents)

Donation Hotline
:
1878 333 (Our staff will be glad to provide you with detailed information of the event)