The Man Mo Temple Compound is mainly composed of three green brick structures with pitched roofs. Man Mo Temple is not a traditional Siheyuen, but a three-bay and two-hall building fronted by two granite drum platforms. A pair of screen doors is placed in the front hall.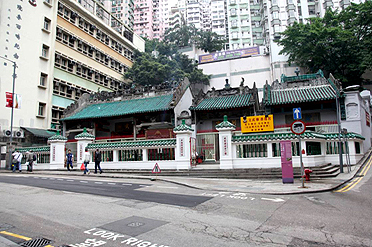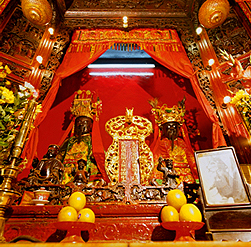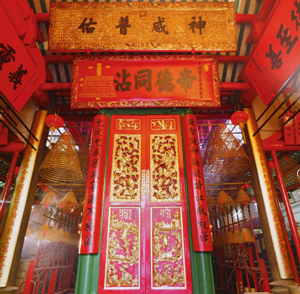 Following the traditional Chinese architectural layout, the rear hall housing the altars of the deities is a few steps higher than the front hall. Between the two halls is a covered courtyard flanked by two side chambers of humpbacked roofs (捲棚頂). The courtyard is covered with a double eaved hip-and-gable roof (重檐歇山頂), which is supported by four granite columns at the corners of the courtyard.
Lit Shing Kung is originally a three-hall-two-courtyard building. The two courtyards were later covered by steel roofs. The Kung Sor is a simple one-hall structure. The historic granite doorframe on which the construction year of Kung Sor can be found is still well preserved. The Kung Sor has been converted into a souvenir shop. The modern structure attached to the back of Kung Sor named Virtue Court (善德宮) was added in 1994 for people to worship their ancestors.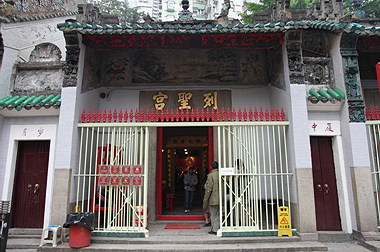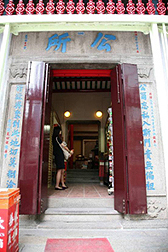 The magnificent Temple Compound is exquisitely decorated with Shiwan ceramic figurines, granite and wood cravings, plastered mouldings and murals, reflecting the superb craftsmanship of the old days. Two types of gable walls are found in the Temple, i.e. curvilinear gable of Man Mo Temple and pointed gable of Lit Shing Kung and Kung Sor. The delicate Shiwan ceramic ridge of Man Mo Temple made in 1893 is of ceramic figurines displaying a Cantonese opera stage setting. A pearl in the middle and two dragon fishes at ridge ends are placed on top portion of the ridge. It is interesting to note that brick carvings are found on the gable front (墀頭) of Man Mo Temple and Kung Sor while the gable front of Lit Shing Kung is decorated with Shiwan ceramic figurines.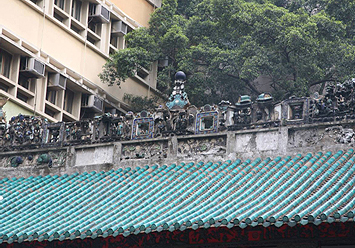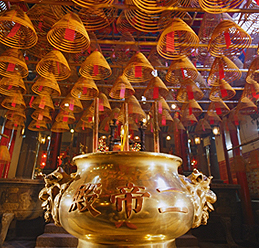 (Source of information: Antiquities Advisory Board)