Reference Library of Tung Wah Museum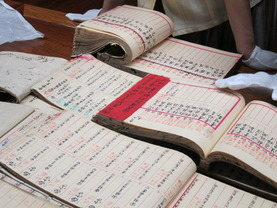 The Reference Library of Tung Wah Museum houses valuable archives like Zhengxinlu (early annual reports), letters from Tung Wah to external parties, Huamin Zhengwusi laixin bu (a collection of letters from the Registrar General/Secretary for Chinese Affairs in the colonial period), minutes of Board Meetings and committees meetings, publications of Tung Wah, newspaper clippings, photo albums and souvenirs etc. They are important resources for tracing the development of the Tung Wah as well as the history of Hong Kong, modern China and world Chinese.
Request for access to archives of Tung Wah Museum
Applicants should download and fill in the Application Form for Access to Archives of Tung Wah Museum, together with a research proposal or background information of an intended research and a letter of recommendation from an academic or a research institute (if applicable), and send to the Corporate Communications Branch of the Tung Wah Group of Hospitals by post, email or fax.
Address: G/F, Wong Fung Ling Memorial Building, 12 Po Yan Street, Sheung Wan, Hong Kong;
Email: enquiry@tungwah.org.hk; Fax: 2975 9521
Successful application will be confirmed in writing.
All submitted items will not be returned.
Approval for the application is subject to the final decision of the Tung Wah Group of Hospitals.