Tung Wah Museum is a building of a symmetrical layout, with a Main Hall at the middle franked by two side chambers. The Museum is a traditional "column-and-beam" structure. Structural columns are made of timber standing on carved granite bases. The walls are constructed with green bricks with very fine pointing. The whole Museum is sitting on a granite platform fronted by granite steps.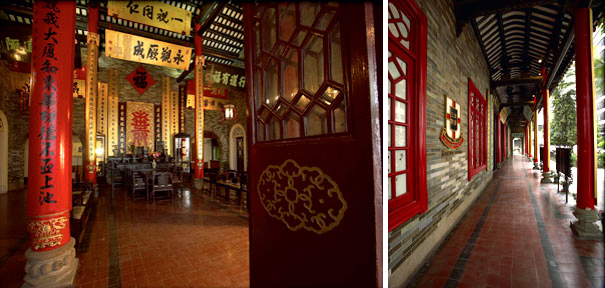 Chinese style
The museum building is a fine piece of architecture characterized by a combination of traditional Chinese and Western styles. The Chinese style is found in the red bricks flooring, the green tiles, the red columns, the wooden beams, the corridor, the pyramidal roof, the ancestral hall setting and Chinese decorations as viewed at the front elevation.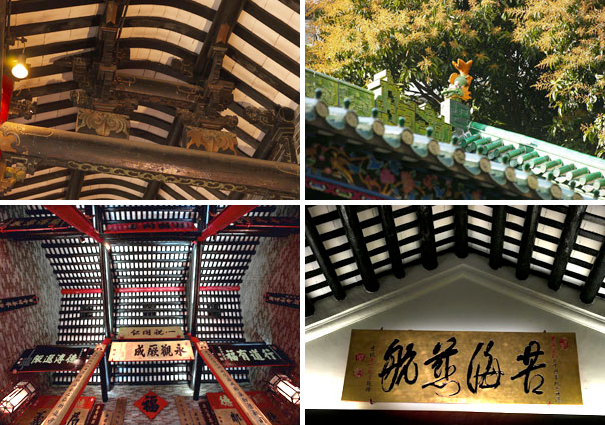 Exquisite wood carvings are found on the floral and auspicious motifs of the eaves board, as well as the truss system and camel's humps along the verandah. Door panels having gilded floral carvings are seen in the main entrance, while checkered and floral patterns are seen in the red window frames.

The pitched roof is laid with green glazed tiles whilst the ridge, which was reconstructed in 1991 imitating the original one in 1910, is decorated with a peal in the middle and two dragon fishes standing on geometric patterns at ridge ends. The name of the factory in Shiwan for producing the glazed ridge and the reconstruction year are also inscribed on the ridge.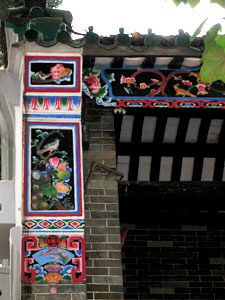 Western Style
Western influences are found in many parts of the buildings. Bull's eye windows and segmental arched windows with keystones were used. Inside the main hall, the four arch doorways leading to the exhibition rooms are designed with western-style fan-lights. Besides, the arch, the loft, the window frames of the office as well as the back wall were all adopting the Western style of the 20th century.