Good People, Good Deeds: English Story Writing Competition 2015 Award Presentation Ceremony
Aiming to enhance students' English writing skills and pay tribute to those who live up to our ideals and put universal moral values into practice, Tung Wah Group of Hospitals (TWGHs) organized the inter-school "Good People, Good Deeds": English Story Writing Competition since 2013. The award presentation ceremony of the 2015 Competition, was held at the Assembly Hall of TWGHs Li Shiu Chung Memorial Building on 7 May 2016, with Prof. Stephen Andrews, Dean of the Faculty of Education, The University of Hong Kong, officiating
Organized by TWGHs and in collaboration with the Education Bureau, The Hong Kong University and The Hong Kong Institute of Education, the Competition received more than 1,000 entries from around 100 participating secondary and primary schools in Hong Kong this year. A total of 11 winners of Gold, Silver and Bronze from Senior, Middle and Junior levels were chosen by an Adjudicator Panel composed of representatives from TWGHs and the collaborative organizations.
Mr. Sunny TAN, Vice-Chairman of TWGHs, extended heartfelt gratitude to the participating students at his welcoming address for their tremendous efforts in writing the stories as well as their appreciation and kindness to people around them, which helped to promote the core values that support a harmonious society.
List of winners:
Award
Winner and School name
Submission Title
Junior Level (P4-P6 Students)
Gold
Hilary TANGSt. Paul's Co-educational College Primary School
A Christmas Blessing
Silver
CHUNG Mong JooHoly Angels Canossian School
My Harmonee – The Most Giving Person I Know
Bronze
Joshua TANGSt. Paul's Co-educational College Primary School
Good People, Good Deeds
Bronze
CHAN Ming Wai SummerDiocesan Girl's Junior School

 

Locks of Love
Middle Level (S1-S3 Students)
Gold
CHAN Ming JaakHo Fung College (Sponsored by Sik Sik Yuen)
A Good Deed At A Long Long Staircase
Silver
LAM Yi LokBaptist Lui Ming Choi Secondary School
The Scarf's Warmth
Bronze
CHOW Tsz Kuen TimothyDiocesan Boys' School
A Close Call
Senior Level (S4-S6 Students)
Gold
LIU Ching Yin CarolynLeung Shek Chee College
A Little Girl and A Boy
Silver
HO Yui Ming HermanSt. Paul's College
Serena and the Old Man
Bronze
KOMAL ASHFAQPAOC Ka Chi Secondary School
Good Deeds are Worth It
Bronze
HUI Cheuk Hin AnsonKing's College
The Candies and the Lady
Since its establishment in 1870, TWGHs has been all along upholding its mission "To heal the sick and to relieve the distressed; to care for the elderly and to rehabilitate the disabled; to promote education and to nurture youngsters; and to raise the infants and to guide the children." Nowadays, TWGHs has become the largest charitable organization in Hong Kong. For over a hundred years, TWGHs' medical and health, education and community services have developed rapidly to fulfill the needs of the society and to provide high quality services at low rates. Today, TWGHs operates over 303 services centres, including 5 hospitals and health services and 28 Chinese and Western medicine services centres, 53 education services centres, 215 community services centres that cover elderly, youth and family, rehabilitation and traditional services, whilst the Tung Wah Museum strives to promote, restore and preserve the heritage and relics of TWGHs. TWGHs Archives and Relics Centre has been set up to preserve TWGHs' valuable cultural assets.
* End *
For media inquiries, please contact the Corporate Communications Branch of TWGHs at 2859 7482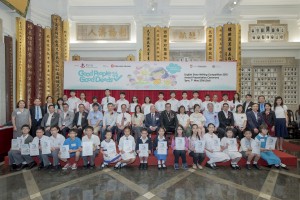 A group photo of Mrs. Katherine MA (2nd row, left 7), the Chairman, Prof. Stephen Andrews (2nd row, left 8), Dean of the Faculty of Education, The University of Hong Kong, Board Members, guests and winners