Hong Kong Parkview and iBakery Collaborate for Charity Cookie Sales
Hong Kong Parkview and its team members showed their commitment to those less privileged in the local community through their collaboration with iBakery, a social enterprise under Tung Wah Group of Hospitals. To mark the beginning of this charitable partnership, a "Charity Cookie Day" was held on Sunday, 29th October, 2017 at Hong Kong Parkview's Clubhouse with the support of over 50 Hong Kong Parkview staff volunteers and a team from iBakery. Following the highly successful launch of the fundraising event, various activities will be running throughout the year in this long-term collaboration with iBakery to deliver its social inclusion vision to the Hong Kong Parkview community.
"Our collaboration with Parkview is a big step forward for our channel development. Not only does Hong Kong Parkview help promote our bakery products, they also buy iBakery cookies for their use in daily operation. We believe this long term collaboration will definitely benefit our brand and business, and become a showcase for future corporate partnership. Heartfelt thanks to the management and staff at Hong Kong Parkview for their great support." says Florence Chan of iBakery, Tung Wah Group of Hospitals.
Tremendous responses were received from Hong Kong Parkview's members and residents with all the iBakery goods sold out in less than half the time expected. Olivia Au, General Manager of Hong Kong Parkview says, "by collaborating with iBakery we are able to offer our members, residents and members a chance to enjoy delicious handcrafted cookies while giving back to the community. We are delighted that the funds raised from the Charity Cookie Day and all future income from the sales of these delicious cookies will go directly to iBakery to support people with disabilities by training and providing them with employment opportunities at the factory, restaurant, cookie shops and snack kiosks."
Apart from the Charity Cookie Day, Hong Kong Parkview will continue to support iBakery by selling handcrafted cookies at selected food and beverage outlets, namely Teahouse, Lifestyle Café and Ming Yuen Chinese Restaurant with 100% of the sales income going to iBakery.
In addition, Hong Kong Parkview has also committed to using iBakery cookies in other areas of the company's daily operation. Instead of baking its own cookies or buying them from commercial suppliers, Hong Kong Parkview is providing all guests who check into the serviced apartments a box of iBakery green tea cookies as part of the in-room welcome amenities. Hong Kong Parkview's dining patrons will also have a chance to try iBakery cookies as a whole wheat almond cookie will be offered to complement any hot drink sold at the Lifestyle Café.
As a socially responsible corporate citizen, Hong Kong Parkview has always played a part in contributing to society and this year the collaboration with iBakery marks a milestone in the company's enhanced engagement in Corporate Social Responsibility. It is not just a great chance for Hong Kong Parkview's team members to contribute to the society through volunteer work, but also a valuable hands-on experience in working with people with disabilities and a further understanding of social enterprise and social inclusion which iBakery promotes.
Hong Kong Parkview rests amid the tranquil and idyllic Tai Tam Nature Park, a 15-minute ride to Central, Hong Kong. Redefining Hong Kong living, Hong Kong Parkview provides a full sensory, luxury service experience for guests by creating an elaborate yet comprehensive community of art and sophistication for short stays of one month up to long stays of two years. With 223 luxurious serviced apartments, ranging from 254 sqft standard rooms to 3,273 sqft 4-bedroom furnished suites, Hong Kong Parkview offers a host of indoor and outdoor facilities including the heated Roman Baths, an Oasis Pool, a 3-floor gym, tennis courts, a VX spinning studio, and a room exclusively for physiotherapy. Hong Kong Parkview is also home to eight food and beverage outlets ranging from an authentic Cantonese restaurant to a poolside café.
Website: www.hongkongparkview.com
iBakery, established in July 2010, is a social enterprise under Tung Wah Group of Hospitals. It is dedicated to training and employing people with disabilities while promoting social inclusion and feeding Hong Kong with a healthy and delicious menu of baked products. iBakery has its own baking factories, bakery, cookie shops, restaurant and snack kiosks. Currently there are ​11​ branches employing over ​100​ staff, amongst which more than half are people with disabilities. In recent years, iBakery's ​social mission ​and product quality have earned further recognition and support from the public and awarding organisations.
Website: http://ibakery.tungwahcsd.org
For media inquiries, please contact the Corporate Communications Branch of TWGHs at 2859 7485.
 *The end *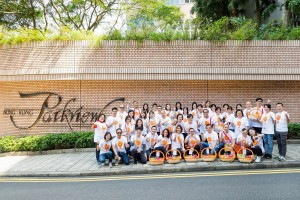 Group photo of the volunteer team at Hong Kong Parkview on"Charity Cookie Day".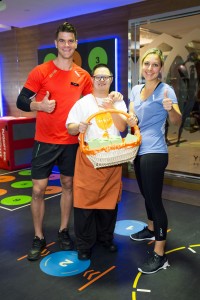 All the cookies were sold out very quickly as over 50 Hong Kong Parkview and iBakery volunteers joined together to raise funds for iBakery.
iBakery cookies are available at Hong Kong Parkview selected food and beverage outlets, namely Teahouse, Lifestyle Café and Ming Yuen Chinese Restaurant with 100% of the sales income going to iBakery.
A iBakery wholewheat almond cookie is offered to complement every hot drink sold at Lifestyle Café. All guests who check-in Hong Kong Parkview's serviced apartments will receive an iBakery Green Tea Cookie Gift Set as welcome amenities.