"MY WAY" Life Planning Educational Project for Secondary School Students Concluding Seminar cum Award Presentation Ceremony of Joint School Work Shadowing Programme
TWGHs Ho Yuk Ching Educational Psychology Service Centre, with funding from the Home Affairs Bureau, initiated the "MY WAY" Life Planning Educational Project in 2015. The Project's aim was to teach junior secondary students from 15 TWGHs secondary schools how to set goals and equip themselves with skills and knowledge needed to help them plan for the future.
Over 3,000 students, parents and teachers benefited from this year's programme. At the concluding seminar held on 5 July 2016, a manual on the design of a life planning curriculum was shared with participants from the education and social welfare sectors. Certificates were presented to 41 F.3 students in recognition of their outstanding performance during the job shadowing exercise.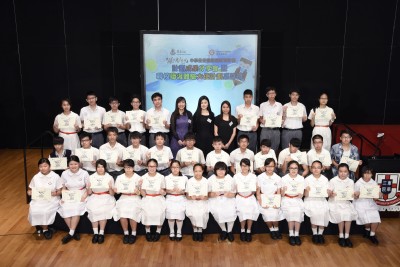 A group photo of F. 3 students who excelled in the job shadowing exercise.