TWGHs Charity Raffle (9.3.2017)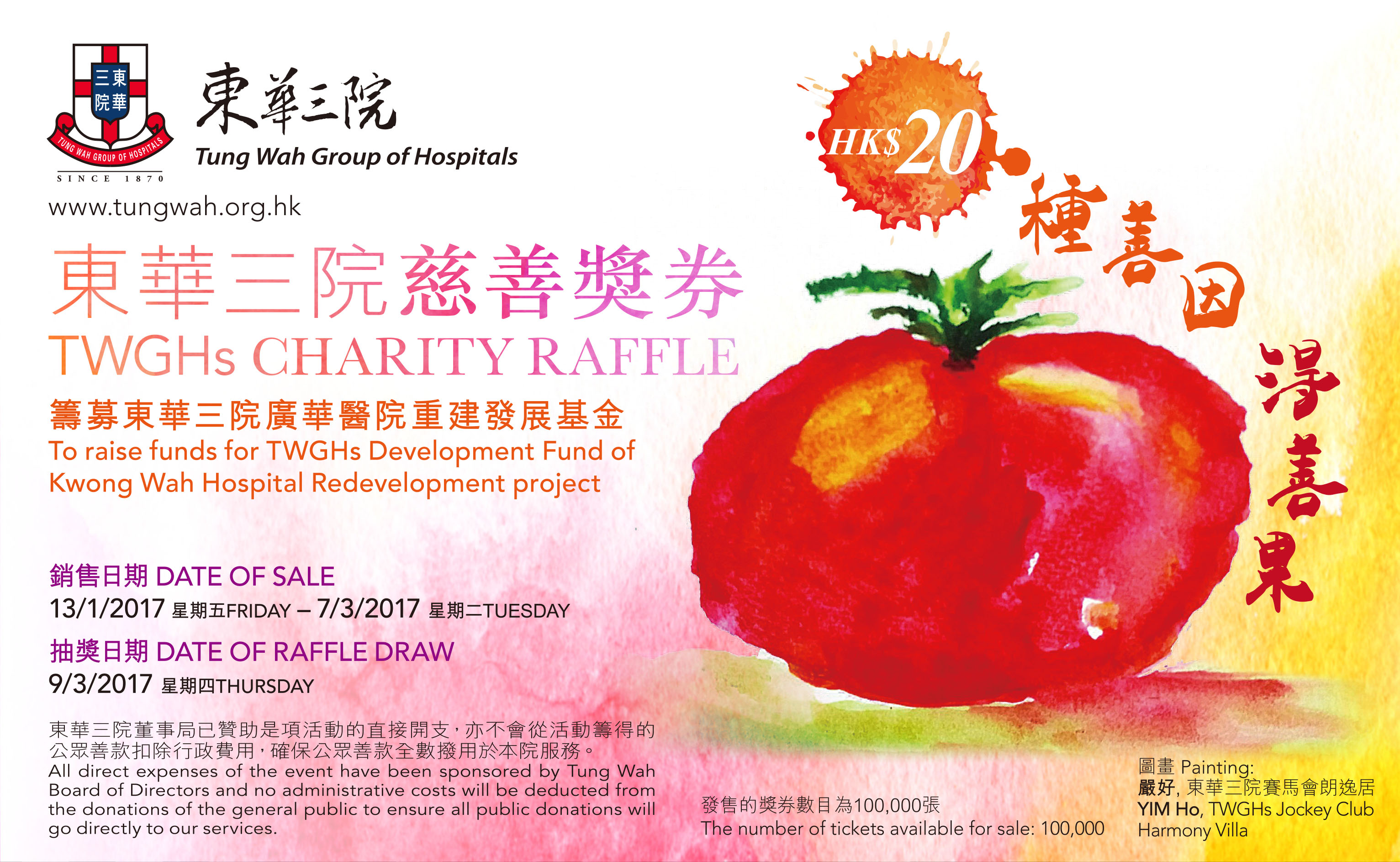 Event
:
TWGHs Charity Raffle


.

Purpose
:
To raise fund for TWGHs Development Fund of Kwong Wah Hospital Redevelopment project


.

Chairman's Appeal
:

To download the appeal message




.

Date of Sale
:
13 January to 7 March 2017


.

Selling Price
:
Each ticket HK$20
(Purchase every 20 raffle tickets will receive one Hung Fook Tong Homemade Dessert voucher as a gift.  Limited stock are available on first-come, first-served basis.)


.

Prize
:
Cartier Ladies Watch ($60,000) as the grand prize and with other prizes worth more than $240,000 in total.  Please refer to poster for details.


.

Point of Sale
:
(1) Fund-raising Division, 3/F., TWGHs Wong Fung Ling Memorial Building, 12 Po Yan Street, Sheung Wan, H.K.
(2) Service centres of TWGHs
(3) Appointed organizations


.

Channels of Making Donation
:

To download the donation form


(1) Subscribe for raffle tickets
(2) General Donation (online donation by VISA/MASTERCARD, PayPal or Octopus)


.

Date of Raffle Draw
:
Thursday, 9 March 2017


.

Time of Raffle Draw
:
11:30 a.m.


.

Venue of Raffle Draw
:
The Assembly Hall, TWGHs Li Shiu Chung Memorial Bldg, Tung Wah Hospital, 12 Po Yan Street, Sheung Wan, H.K.


.

Guests of Raffle Draw
:
Tung Wah's lady Board Members and wives of Board Members


.

Enquiry
:
1878 333 (Our staff would provide more detailed information of the event)


.

All direct expenses of the event have been sponsored by TWGHs Board of Directors and no administrative costs will be deducted from the donations of the general public to ensure all public donations will go directly to our services.