Young Trainees of Image Pro, Social Enterprise of TWGHs
Offer Pre-wedding Photography Service for Ethnic Minority Couples
To further enhance social inclusion and to provide a platform showcasing youth talents, a group of young trainees from Image Pro, a social enterprise of Tung Wah Group of Hospitals ("TWGHs"), offered complimentary bridal make-up and pre-wedding photography services for 11 ethnic minority couples on 11 March 2016.
Due to the language barrier and cultural diversity, most of the ethnic minorities in Hong Kong are blue-collar workers and have to face various difficulties in life. To raise public understanding and concern about ethnic minorities, Image Pro has arranged some young trainees to take pre-wedding photos for 11 couples of ethnic minority, with all of them dressed up in western wedding gowns and tuxedos. These couples are mainly Nepalese who have never participated in any Hong Kong-style wedding, even though a majority of them have been living in Hong Kong for over 20 years. Apart from pre-wedding photos, two microfilms featuring the love story of two selected ethnic minority couples will also be tailor-made.
Purnima and Noman, participants of the photo-shooting were thrilled to take part in the activity which has given them invaluable opportunity to learn more about Hong Kong culture and get in touch with youths. They were also impressed by the professionalism and devotion of the young trainees.
Ms. Janice LEE, Service Development Officer (Eastern/Central & Western) of TWGHs said it was the second year for Image Pro to organize the multi-media production training course for youths. The training course not only equips youngsters with professional skills in multimedia aspects, but also helps broaden their horizon, improve their social skills, and give them insight on life and career planning. With the support of a local wedding company, Lafayette Wedding, the Hong Kong's first collective wedding banquet for ethnic minorities will soon be held on 21 April 2016. It will be an opportunity for young trainees to put what they have learnt into practice and contribute to the society.
Collective Wedding of Ethnic Minorities cum Trainee Graduation Ceremony
| | |
| --- | --- |
| Date: | 21 April 2016 (Thursday) |
| Time: | 7pm-10pm |
| Venue:Content: | Lafayette Wedding, 1/F, 40 Waterloo Road, Kowloon11 couples will be dressed up in western gowns and tuxedos to march in and say the vows.  Pre-wedding photos and love story microfilms will also be exhibited in the ceremony |
About Image Pro
Image Pro is the social enterprise run by Tung Wah Group of Hospitals which is formed by a team of professional photographers and a group of youths who is fond of multi-media production. Services available include photo-shooting, video-shooting, photo booth service and instant photo printing service. All income generated from Image Pro will be used to provide training course and internships for youths.
Since its establishment in 1870, TWGHs has been all along upholding its mission "To heal the sick and to relieve the distressed; to care for the elderly and to rehabilitate the disabled; to promote education and to nurture youngsters; and to raise the infants and to guide the children." Nowadays, TWGHs has become the largest charitable organization in Hong Kong. For over a hundred years, TWGHs' medical and health, education and community services have developed rapidly to fulfill the needs of the society and to provide high quality services at low rates. Today, TWGHs operates over 292 services centres, including 5 hospitals and health services and 27 Chinese medicine services centres, 53 education services centres, 205 community services centres that cover elderly, youth and family, rehabilitation and traditional services, whilst the Tung Wah Museum strives to promote, restore and preserve the heritage and relics of TWGHs. TWGHs Record Centre has been set up to preserve TWGHs' valuable cultural assets.
* The End *
Press Enquiry: TWGHs Corporate Communications Branch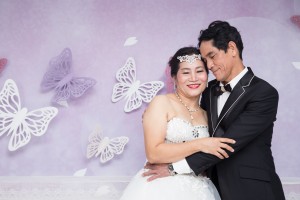 Pre-wedding photo of Noman and his wife taken by Image Pro trainees.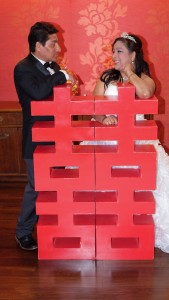 Purnima and Prasad posed behind a giant Chinese character "囍", which symbolizes the double happiness of the couple.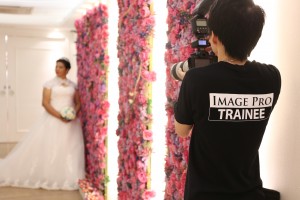 Image Pro trainee took pre-wedding photos for the ethnic minorities with an aim to enhance their understanding towards local culture.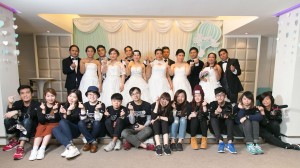 Group photo of Image Pro trainees and ethnic minority couples dressed in wedding gowns and tuxedos.