Since 2007, Tung Wah's corporate policy for promoting employment of people with disabilities has been established by taking reasonable steps to give priority in considering their relevant job applications and providing engagement of business operators with direct employment of the disable when outsourcing services. For the year 2010/11, a total of 141 disabled persons have been employed under Tung Wah's schools and service centres, constituting 2.17% of the total staff on strength. Details are depicted in the Chapter of Employee Relations and Development of 2010/11 Annual Report.
Creating Job Opportunities for Disadvantaged Groups
To increase the opportunities for people with disabilities (PWD) to participate in meaningful production and gainful employment in the open market, different service models were employed including setting up a wide variety of social enterprises.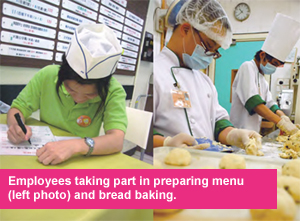 Through operating services like car washing, office cleaning, mobile retail service for elderly homes, as well as simulated business in catering and retailing industries such as Recycle Goodies at Wah Kwai Estate, retail kiosks at TWGHs Fung Yiu King Hospital and Queen Mary Hospital, and the canteen at The Chinese University of Hong Kong – Tung Wah Group of Hospitals Community College, PWDs were provided with vocational training in preparation for open employment.
Social Enterprises have been developing rapidly in recent years in Hong Kong. Seed funding and other support measures are provided by the government to encourage such development as a strategy to alleviate poverty and enhance social inclusion. Tung Wah, in response to community needs, has through the years established a total of 14 social enterprises and created 300 full-time and part-time job opportunities for deprived groups such as people with disabilities, low income women, people with lower educational attainment and so on. Tung Wah's social enterprises encompass a wide variety of business natures including vegetable & fruit processing and supply service, food and beverages and catering, photography, bakery, home help services, cycling eco-tour, etc. Besides providing employment of deprived groups, these social enterprises are also characterized by the reinvestment of all profits into its business development. As for the deprived groups, participation in social enterprise operations has enabled them to earn a living as well as developing their potentials and enhancing confidence and integration into the society.