東華三院「好人好事:英文故事寫作比賽2021-22」
Tung Wah Group of Hospitals
"Good People, Good Deeds: English Writing Competition 2021-22"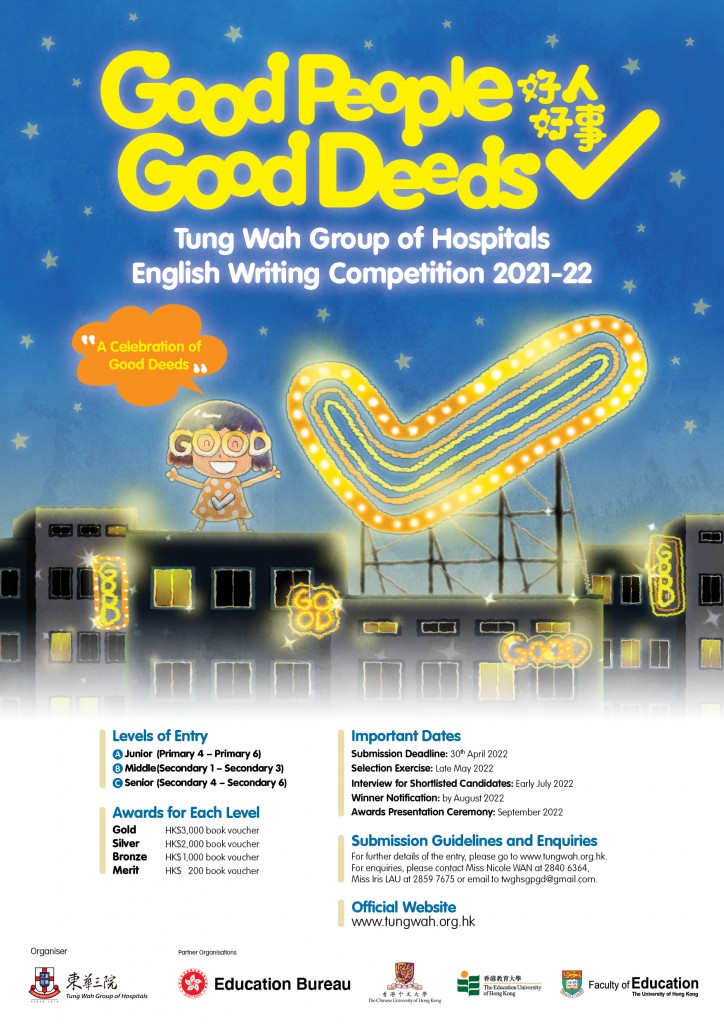 Organiser

Tung Wah Group of Hospitals

Partner Organisations 
Native-Speaking English Teacher Section, Education Bureau
Faculty of Education, The Chinese University of Hong Kong
School Partnership and Field Experience Office, The Education University of Hong Kong
Faculty of Education, The University of Hong Kong
(In no particular order)
Theme 
Good People, Good Deeds

Objectives
To provide students with the opportunity to pay tribute to those who live up to the ideals of our community and put into practice universal moral values including dignity, kindness, respect, impartiality and the spirit of humanity; and
To promote students' interest in writing and the use of English language.
The Competition provides young writers with a platform to explore the world of writing, to stretch their imagination; and most importantly, to infuse positive energy into society, thus fostering social cohesion and promoting care, mutual help and solidarity in the local community.  Students may write how a person can make a difference simply by showing love, appreciation and kindness to people around them.

Levels of Entry
The Competition is divided into three levels:
Junior (Primary 4 – Primary 6)
Middle (Secondary 1 – Secondary 3)
Senior (Secondary 4 – Secondary 6)
Each school may submit the best 10 entries per level, for which certificates of participation will be awarded to the writers/participants. All entries must be submitted by school. No individual entry will be considered.

Adjudicating Panel 
Native-Speaking English Teacher Section, Education Bureau
Faculty of Education, The Chinese University of Hong Kong
School Partnership and Field Experience Office, The Education University of Hong Kong
Faculty of Education, The University of Hong Kong
(In no particular order)

Judging Criteria
Ability to inspire and empower the readers with positive energy
Originality, imagination and content
Development of ideas / the plot and characters
Use of language
Performance in the interview (for finalists only) 

Word Limits 
The word limits for the different levels are as follows:
A. For Junior level, an entry not exceeding 500 words
B. For Middle level, an entry not exceeding 700 words
C. For Senior level, an entry not exceeding 1,000 words

Awards for each level
Gold       (HK$3,000 book voucher)
Silver     (HK$2,000 book voucher)
Bronze   (HK$1,000 book voucher)
Merit      (HK$ 200 book voucher)

Schedule
Submission deadline                         : 30th April, 2022 (The postmark date will be referred to for entries sent by post.)
Selection Exercise                             : Late May 2022
Interview for shortlisted candidates    : Early July 2022
Winner Notification                             : By August 2022
Awards Presentation Ceremony        : September 2022
Submission Guidelines
All entries must be accompanied by a duly completed Official Entry Form. (See Note 1)
All entries must be submitted in accordance with the requirements and entry format or it will be disqualified. (See Note 2)
All entries can be submitted by the following methods:
a) By post: All entries must be submitted in a sealed Please mark on the envelope "TWGHs Good People, Good Deeds: English Writing Competition 2021-22" and mail to:
Education Division
5/F, TWGHs Wong Fung Ling Memorial Building,
12 Po Yan Street, Sheung Wan, Hong Kong.
OR
b) By email: All entries must be submitted

in scanned format

. There should be one entry in every single scanned file (e.g. 10 entries + 1 official entry form = 11 scanned files). All file names must be composed of the name of the student and school, e.g. 'Sandylee_Tungwahgroupofhospital'. You must send all entries with the official entry form to twghsgpgd@gmail.com. You are advised to confirm the receipt of your email by contacting Miss Nicole Wan at 2840-6364 or Miss Iris Lau at 2859-7675.
No individual entry from students will be considered.
Only 10 entries per level will be accepted from schools.
Once the entries are submitted, no correction or amendment for any reason will be accepted. Please check thoroughly before
For enquiries, please contact Miss Nicole Wan at 2840-6364, Miss Iris Lau at 2859-7675. or email to

twghsgpgd@gmail.com

.

Forms Download
Official Entry Form (Junior Level) (attached)
Official Entry Form (Middle Level) (attached)
Official Entry Form (Senior Level) (attached)
All Forms must be completed in BLOCK LETTERS.

Entry Format
All entries must be printed on a plain A4 paper without any marks, names or school logos on the paper.
Paper              : A4
Font Colour   : Black
Font Type       : Arial or Times New Roman
Font Size        : 12 and double line spacing with 3 cm wide margins all around
Page Number : All pages should be numbered at bottom center.
PLEASE DO NOT INSERT ANY IDENTIFICATION (NAME AND/OR SCHOOL NAME) IN THE ENTRY.
* Serial number can be put down by pencil at the top right hand corner of each entry.

Anthology Publication
All award-winning writings may be published.  Tung Wah Group of Hospitals reserves the right to "slightly edit" the works that will be published.
Award Presentation Ceremony
There will be an Award Presentation Ceremony for Bronze, Silver and Gold award winners, together with students with merit.  Details will be announced duly.
Reminders
All entries must be original work of students who are the sole authors.
The entries should not have been published in any format or media.
Entries with plagiarized texts will be disqualified.
By entering TWGHs "Good People, Good Deeds: English Writing Competition 2021-22", the student gives TWGHs permission to contact him/her with regard to the competition.
TWGHs retains the copyright to all the writings received for the competition.
The deadline for submitting entries is 30th April, 2022 (The postmark date will be referred to for entries sent by post.). All submissions received after this date will not be considered.
TWGHs reserves the right to decline any entry not meeting the guidelines. Students are suggested to check the entries for any mistakes and missing words.
The competition will be judged by an Adjudicating Panel. In the event of a tie, the award will be shared.  The Adjudicating Panel's decision will be final.
The Competition is solely organised by TWGHs. TWGHs has the right to alter the Competition and Competition Rules or make exceptions without any prior notice.